I remember many long telephone conversations while sitting on a telephone bench / table as a teenager in the hallway of my home. (I'm telling my age... and I think the table we had was very old then - smiles).
So... memories included ~ this was a special little project. I think she turned out very nice!
The table portion was already removed when I got this little baby. But she needed to be scrubbed down, sanded, primed, painted, distressed and upholstered. I used all white... I love the clean lines and clean color.
Take a look at the before.
Here she is again... all finished.
I have linked to the following: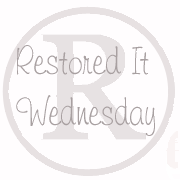 I'm sorry - she has already sold.